SOLAR BACKUP GENERATORS-
4 OPTIONS
BE PREPARED--BE READY!
POWER UP YOUR HOME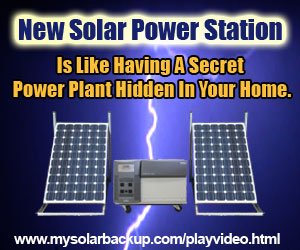 It's Your Choice, Your Needs, Your Budget

Pick your solar generator package from 4 power levels and please order from Get Me Prepared-the price is the same as the manufacturer--CALL (706) 635-7578 to order or for more information and a brochure

Choose The Power Source 1800 with one panel, $1697.00 PLUS S&H
The Power Hub with 2 panels $3,997.00 Plus S&H
Power Hub Plus with 4 panels $6,997.00 Plus S&H
Or the Brand New Power Station Flex-SPECIAL INTRODUCTORY PRICE
OF $29,997 (INCLUDES PROFESSIONAL INSTALLATION AND AT A $10,000 SAVINGS!)









Portable Units will include either one solar panel, two solar panels or four panels
for maximum output. The Power Station Flex is not considered a portable unit.
---
Are You Ready For Unexpected Power Outages and/or rolling blackouts?
Solar Powered Backup System Provides Instant Electrical Power In Any Outage or Disaster.
Even Better…
Backup Kit Produces An Endless Supply Of Electricity For Free!

Why Solar?
The answer is easy. You see, this solar generator is extremely powerful and yet very simple to use. It produces continuous electricity and runs with absolutely no noise, no fuel, whatsoever. It emits no fumes. But the best part about the solar generator is that it…

Generates Free Electricity!

The unit then stores the power for your use when you need it. We all face natural disasters, with hurricanes, tornadoes, snow and ice storms cutting off electrical power to millions of Americans each year.

Then there are man-made disasters and outages. Blackouts and rolling brownouts are becoming common in many parts of the United States as our politicians herd us off into third-world status. And never forget the possibility of a terrorist attack directed at a few of our nation's power plants. Since the nation's power grids are all "connected," crippling one plant starts a cascading downward spiral of darkness. That's why you need to…

Have A Backup System In Place!

The Solar generator kit consists of three main components which work together to create a very efficient home power plant. The massive "generator-backup", the high efficiency solar panel, and the charge controller. In fact, when you compare a solar generator to a gas generator, the difference is pretty remarkable. Here's why. First, gas generators make an incredible amount of racket… if you can even get them started. Generally the wind breaks the power lines, which get covered with ice and snow. Typically, when you lose power in the cold, you go to the garage, roll out the generator and start pulling the cord. You pull and pull some more, all because your generator has been sitting in the cold and the carburetor is playing hard to get. This is not a lot of fun in the dark.

Another reason to avoid gas generators is that you just can't run one in your house. The fumes from a gas generator force you to run it outside and rely on a lot of cords coming through windows or doors to bring the power inside. Again, this is assuming you can get your gas generator started in the first place.

But the number one reason you don't want to be caught in a time of crisis with a gas generator is…

Gas Stations Can't Pump Gas Without Electricity!

Yes. It's true. When the power goes out, you're left with whatever gas you have on hand because the gas station pumps all run on electricity. A few gallons stored in a gas can means a little electricity for a little while, then it's quickly back to black

The Power Source 1800 Kit includes:

-- 1800 watt Solar Backup Generator

-- High efficiency – quick charge 90 watt Solar Panel.

-- Sunsaver Charge controller.

-- 50 feet Solar Panel cable.

-- 90 day warranty, (a two year warranty can be purchased)

-- Our solar kits are assembled in America.

That's $2,197.00 worth of components (at retail) in this package. Anyone who wants to be prepared… can be, while there is inventory… your price is just $1695.00, plus $150.00 shipping, handling and insurance anywhere in the continental U.S. That is a $500.00 saving.

Don't wait for the emergency to happen--
it will be too late to get the items you need. This system has everything you could want in a backup generator. It is quiet, produces no noxious fumes, the power is free, and it is easy to setup and run. Just position your panel for optimal solar exposure, plug in the power cord and plug in your appliances. Light and power in an emergency can make a big difference. If you are one of those individuals who believe that life in this country is going to get much more difficult in the not too distant future, then this unit should be on your list.
A Year Too Soon is Better Than a Day Too Late!

Imagine the difference in your quality of life if in an emergency, you could have the ability to keep foods cold, maintain cell phones charged for communication and have some light!